Welcome to City Tropics Tanning Salon

City Tropics Tanning Salon has provided state-of-the-art tanning and we are dedicated to continuing to provide a high level of service and the latest in tanning technology to our customers in the future.
City Tropics Tanning Salon is a full-service tanning salon equipped with a variety of different beds to help our customers achieve their tanning objectives. Our knowledgeable staff is always available to give advice, recommend tanning products, or to help customers develop personalized tanning programs.
     
SYCHOFIT
SychoFIt is a fashion fitness line that is designed to give you the most confidence when you are working out. Our styles do not remain the same season after season, rather we evolve with the current fashion trends.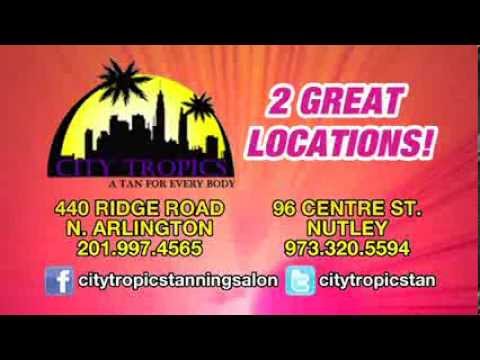 HOURS & LOCATIONS 
440 Ridge Road
North Arlington, NJ 07031
201 . 997 . 4565
Mon-Fri: 10am-10pm
Sat-Sun: 10am-8pm
96 Centre Street
Nutley, NJ 07110
973 . 320 . 5594
Mon-Fri: 10am-10pm
Sat-Sun: 10am-8pm